Woohoo! Two months ago I started working along the principle of only doing things that I have enough support for. I created a crowdfunding page at www.eerstehulpbijgesprekken.nl to get financial support for my living expenses, during a 10 week course to train people to help solve conflicts.
Until Monday € 157,37 had been donated. And then – seemingly out of the blue – I got a call from an organization with the message that they're willing to donate € 3.000,-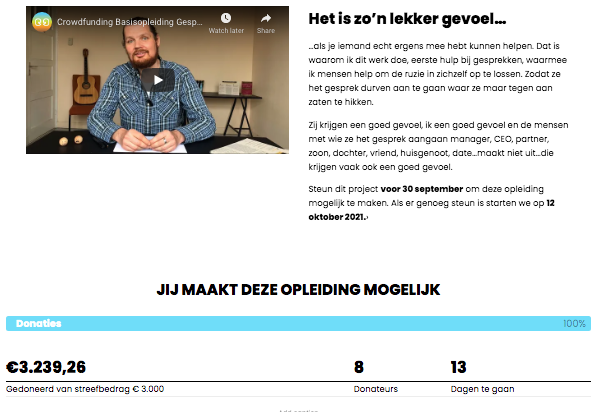 Wow, just wow.
This surprising gift, reminded me of this quote by Gandhi:
"If you don't ask, you don't get it"
I'm glad I asked…and very grateful that I have gotten the support I asked for.
Now that the crowdfunding has been successful, I see these next three steps:
Promote: Make six videos with the help of producer Evert to give potential people an idea of the course.
Support: Ask for another €1.000,- on the crowdfunding page, which will go to support producer Evert's living expenses.
Train: Create the first video for the 10 week course.